Nearly half of all Texans would repeal the constitutional promise of citizenship for anyone born on U.S. soil, and nearly two-thirds would favor Arizona-style state laws allowing the police to ask about the immigration status of anyone they stop for any reason, according to the latest University of Texas/Texas Tribune poll.
The 14th Amendment to the U.S. Constitution grants so-called birthright citizenship to babies born in this country regardless of the immigration status of their parents. Asked whether that provision should be repealed, 48 percent of respondents say yes, while 38 percent say no. The remaining 14 percent are undecided. Fifty-four percent of respondents "strongly favor" passing a Texas law mirroring Arizona's controversial new immigration law, and another 11 percent "somewhat support" passage.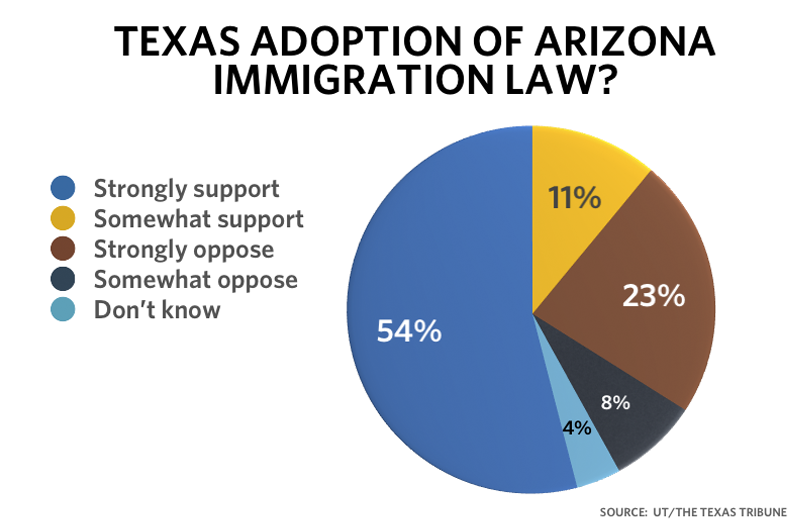 On one of the hot-button questions of the campaign season, a majority of Texans are willing to buck the federal government: 63 percent of respondents support the state's decision to join a lawsuit "seeking to block implementation of President Obama's health care reform legislation" on the grounds that it's unconstitutional to force people to buy health insurance. Just under half that number — 31 percent — oppose such a lawsuit.
Texans remain strongly in favor of the death penalty, with 54 percent "strongly" in favor and 24 percent more "somewhat" in favor.
And they're more tolerant of gays and lesbians than you might expect. While 31 percent oppose marriage or civil unions for same-sex couples, 33 percent say they should have the right to civil unions and 28 percent say they should have the right to marry. Only 8 percent have no opinion.
"There is a sense of 'Leave me alone,'" says pollster Daron Shaw, a professor of government at the University of Texas who, with his colleague Jim Henson, oversees the UT/TT poll. "They're pretty good markers for kind of a libertarian streak. Texas opinions are more complicated than people think they are."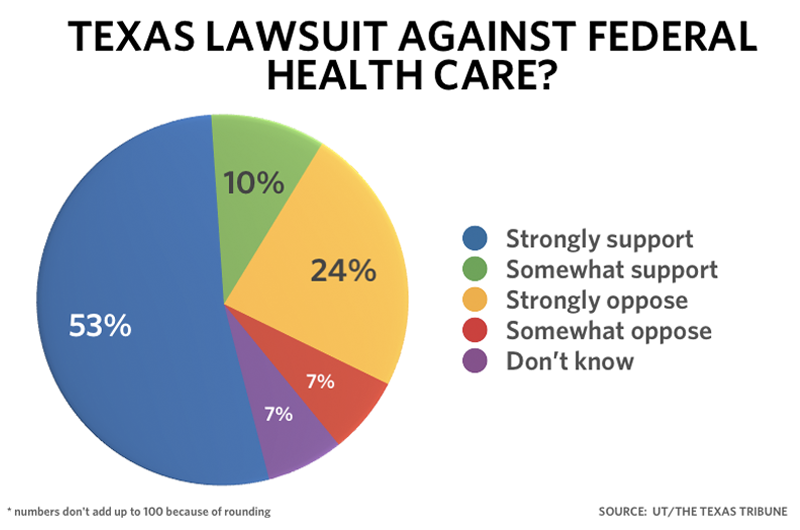 Shaw sees an "anti-establishment, anti-federal-government" theme emerging from respondents' answers to the poll. Texans don't like a lot of what they're seeing from everyone in power, but they seem to be putting the blame on the feds, giving Republican candidates on the statewide level the edge in every race and telling the pollsters that they strongly prefer generic Republicans to generic Democrats in races for Congress and the Legislature.
"When you ask Texans about these kinds of things, you get fairly conservative answers," Henson says.
Most Texas politicians have danced around immigration policy, not committing on the 14th Amendment and giving tepid responses on the Arizona law, saying they like elements of it but would have to see a proposal before taking a position. "It's a matter of the political information you pay attention to," Henson says. He thinks Republican pols in Texas are wary of making the kind of mistakes their counterparts made in California, when an anti-immigrant political movement backfired and helped put Democrats in power in the 1990s.
Immigration and the economy dominate Texans' answers to questions about the most-important issues. They rank the importance of issues facing the country this way: the economy, 31 percent; unemployment/jobs, 17 percent; political corruption/leadership, 12 percent; federal spending/national debt, 11 percent; immigration, 5 percent. Their answers on the state level have a different focus: border security, 20 percent; immigration, 18 percent; unemployment/jobs, 14 percent; the economy, 12 percent; and political corruption/leadership, 9 percent.
Texans feel strongly that the federal government is on the wrong track (63 percent) rather than moving in the right direction (26 percent). The state, on the other hand, is above water — barely — with 43 percent of respondents saying things are going in the right direction and 38 percent saying Texas is on the wrong track.
They're gloomy about the health of the economy compared to a year ago on the federal, state and personal levels. Forty percent say their family is worse off than a year ago, while 20 percent say they're "a lot" or "somewhat" better off; 39 percent say things are about the same. The condition of the state is better than a year ago, according to 36 percent, while 42 percent say it's worse and 22 percent have no opinion. Only 23 percent say the national economy is better than a year ago, while 54 percent say it's worse — 34 percent say "a lot worse" — and 21 percent say it's about the same.
This is the fourth University of Texas/Texas Tribune poll (the three others are here, here and here). The survey of 800 registered voters was taken Sept. 3-8 and has a margin of error of +/- 3.46 percent.
This article originally appeared in The Texas Tribune at http://trib.it/dxl1sj.